Graphic design clients may pay well for a project, but they can be a tricky bunch. Hence, graphic designers really need to stay on their toes when dealing with their customers. This is especially important because graphic design needs to be as close to the final draft as possible. Making changes in the middle of creating a logo or designing a website is not always possible or feasible. Moreover, it can frustrate the artist and graphic designer.
This is why every graphic designer needs to know what questions to ask of a client before starting a project. They must make sure to ask these questions specifically to a first-time client. If you're not sure how to ask questions for clarifying a graphic design project, we may be able to help you out. Below is a list of some important questions you must as according to the situation at hand:
1.Who Is Your Target Audience?
Image Source:www.fatguymedia.com
First off, you need to see just who you are designing for. Once you know who the intended message is for, you can provide the content and style accordingly. The colors, lines, and focus of the project could then be set right from the very start. Hence, be sure to find out as much of the target audience as possible.
Find out whether you are catering to existing customers or trying to attract new ones. Then, see if you can get an estimated age, ethnicity, designation, location, and dominant gender of the intended audience. Sometimes, religion and economic status are also relevant. You may also have to see whether you are aiming at the employees of the firm or its customers.
2.What Is Your Brand Message?
There is always a message embedded in any sort of design. You have to know just what it is in order to best get it across. For instance, the message could be about celebrating differences. You may get the idea to work with contrasting colors and make quite an impressive effect as a result. Delve as deep as you can. Would the celebration of differences be exciting, thought-provoking, or aiming to stir some compassion?
The answers to all these would make a graphic designer's job much easier and more efficient. This would certainly make both parties very happy. Be sure to have some keywords in writing approved by your client before you start working on their design.
Sometimes, the message is best expressed in simple lines and tones. A report by Billy Gardner in 2016 reveals how a simple, minimalist look is the way to go in the modern world. Fancy font and abstract shape are not something that would covey a very up-to-date feeling.
3.What Are The Specifications?
Image Source:www.199jobs.com
Graphic designers work within several mediums, costs, time slots, and in many innovative ways. You could design a multi-page brochure as well as a single page leaflet. However, you obviously need to know these specifications in advance. This would enable you to ask for an appropriate deadline and compensation.
The problem here is that many clients don't know just what would be best for a certain project. They may want a couple of pages just because it's cheaper. It is the job of a graphic designer to help clients realize just what kind of specifications would make the design most effective. More pages would be needed for catering to clients in a specific and technical field.
For instance, one cannot merely pass off a leaflet as a college or university prospectus. There needs to be at least a long brochure or a proper booklet. The content, design, and presentation would need to be finalized accordingly.
Whichever the case, a graphic designer needs to know the pages he is supposed to work on, as well as their dimensions, color, paper quality, and the number of hard copies required, if any. Most design projects are now intended to remain online, so one may not have to bother with paper projects as much as a decade ago.
4.What Is Your Budget?
This is, of course, a burning question for any graphic designer before they actually start working on a project. Unfortunately, most clients do not reveal their budget for a graphic design project. They may not even be able to provide an accurate estimate even if they wanted to. This may be a bargaining tactic, which graphic designers have to watch out for.
There is also the fact that many clients see graphic designing as a simple art. While it is true that many graphic designers are self-employed and acquire training on the job, the efforts are undeniable. In fact, over 58% of designers have reported that they work upwards of 40 hours per week. This is according to a study conducted in 2016.
Hence, it is in their best interest to get an idea of how much they can expect for a certain job. This would help them to work within a certain budget and also get paid enough to feel motivated. In the same 2016 study above, 78% of graphic designers revealed that they worked more hours than they were paid for.
5.What Is The Deadline?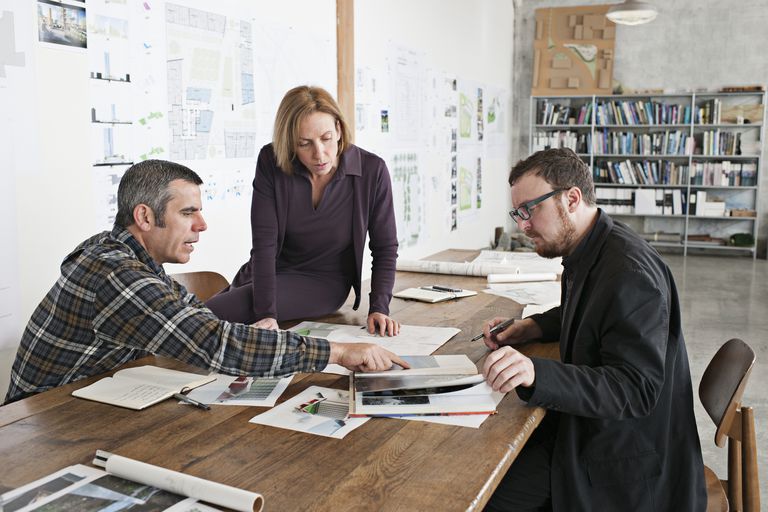 Image Source:www.thoughtco.com
With all the technology and tools at hand, even the most skilled graphic designer needs time to sort out his projects. The more time and effort one puts into a design, the better the outcome. Graphic designers may even take on projects with a lower pay if they have a lot of time to get it done.
In addition to the specific deadline, it may also be worthwhile to find out the reason for the deadline. If it is in accordance with something important, like a product launch, the deadline may not be flexible. This is an important consideration for any graphic designer before they take on a job.
Final Thoughts
Answering the questions above would not only help you in getting started on your project but also in estimating a cost and time for your work, this could enable you to ask the client for an advance payment if need be. Additionally, you would establish your worth as a professional and be able to save a whole lot of time, money and effort both for yourself and your client.
Author Bio
Anna Marsh is a Pro Graphic Designer, Educator, And a Blogger. In her articles, she throws light on the graphic design and its different facets. Being an educator, she assists students who need essay help UK. To know more about her, you can join her on Facebook, Twitter, and Google Plus.